Interactive Digital Menu Boards
In-house advertising, right at the point of sale.
WurkAdz are custom branded, digital ads and menu boards that Wurk. They help increase your bottom line by placing your most lucrative products front and center. Own a restaurant or fast food facilities? With digital menu boards, you can start mouths watering for those that are waiting in line. Visual advertising works.
Digital signage creates emotion. It has happened to you before – just when you think a burger sounds good, all of a sudden, a plate of sizzling fajitas pass by your table and just like that, you are motivated to switch your order. Interactive media can do the same for your venue from open to close. Profits come when tables turn and a customer is happy. There is little time to suggest specials and profitable dishes when your waitstaff is trying to service the customers. Suggestive digital menu boards on the wall or on a tabletop can do just that.
Article Jimmy's Grotto Waukesha
Digital signage is the perfect way to create a visual appeal and bring real-time information to your customers. These screens or menus can be designed and updated remotely once the software and scheduling are set up. Working with the team at WurkHub we can help you plan promotions, launches of new product and any changes you desire for the whole year or as needed.
Here is an article from the Waukesha Freeman about the installation at Jimmy's Grotto and other local Waukesha area establishments on how digital boards added value to their respective businesses. Give us a call, you will be surprised at how reasonable it is to make the switch to digital.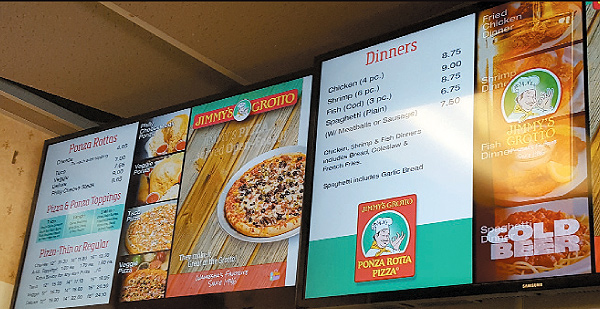 Credit: Waukesha Freeman
http://www.gmtoday.com/news/local_stories/2016/11292016-brightening%20businesses-LED-signs-making-impact-on-customers.asp